Product overview
Advanced cleaning technologies for pools 25-50m in length:
Total pool cleaning – Unique gyroscopic system delivers accurate and effective scanning for systematic cleaning along the entire pool.
Gyroscopic navigation system inside – Gyro inside maintain stable navigation and ensure maximum cleaning efficiency.
Advanced, high-capacity filtration – dual level filters collect
Maximum hygiene – Thorough brushing, efficiently removes dirt and debris, enhancing water quality.
Cleans floors, walls and waterline.
360° product overview
Rotate the image and click the hotspots to discover the new technologies of the WAVE-series robot pool cleaners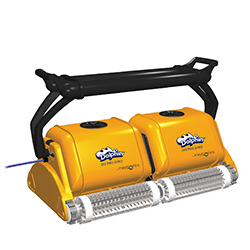 Cleverclean™ coverage
Advanced scanning software ensures floor and walls are fully covered using the most efficient route. The Dolphin automatically navigates around obstacles and quickly returns to its cleaning pattern. 
Swivel – cable tangle prevention system
Swivel cable eliminates tangled cables forever! As your Dolphin moves around the pool, the swivel ensures that the cable stays free and clear, enabling complete pool coverage. 
Caddy
Multipurpose caddy with auto cable release
---
Transports the robot and automatically releases just enough cable to reach the far end of the pool, preventing kinks and tangles, simply crank the reel to neatly rewind the cable.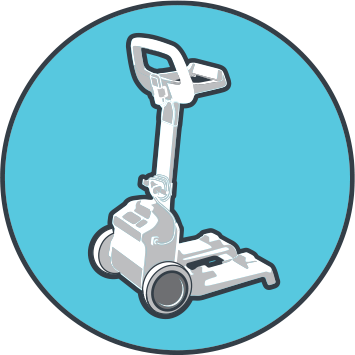 Wall and waterline cleaning
---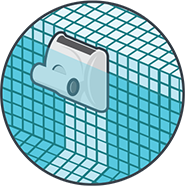 Gyro – precise navigation system
---
Remote control
Manual maneuvering
---
Remote control for manual maneuvering to clean hard-to-reach pool corners.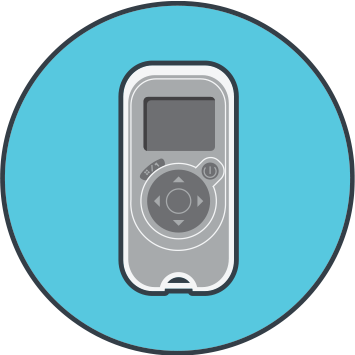 Peace of mind
Nobody knows robotic pool cleaners like Maytronics – the company behind industry-leading Dolphin robots. For more than 30 years, we have been developing robotic cleaning solutions for the world's swimming pools. Starting in 1983, we pioneered automated electronic pool cleaning technology. Today, Maytronics remains the market leader, continually setting new standards for technological innovation, design and reliability. In everything we do, we strive to make pool owners' and users' lives easier and more enjoyable. Our goal: to enable an exceptional experience of a pure, clean, safe, and relaxing pool.

201,293,488,320 Cubic km of water filltered

Over 1,000,000 robots sold

In more than 46 countries
All designed with the safest electrical components in the industry.
Dolphin WAVE changed my business completely.
With this fully automated solution, my staff can focus on other tasks,
with full confidence that the pool water will be left clean and hygienic after every cleaning cycle."